Economical and Premium Options
2 Head Keg Washer Models and Options from Cascade Stainless Solutions
*New* Keg Washer Models and Recent Redesign
We have upgraded our keg washer designs and now we offer two distinct and different lines of keg washers to accommodate every sized brewery from large to small and from starting-out to rapid-growth. The premium Imperial Line and the economical Session Line.
Cascade Stainless Solutions
2 Head Keg Washers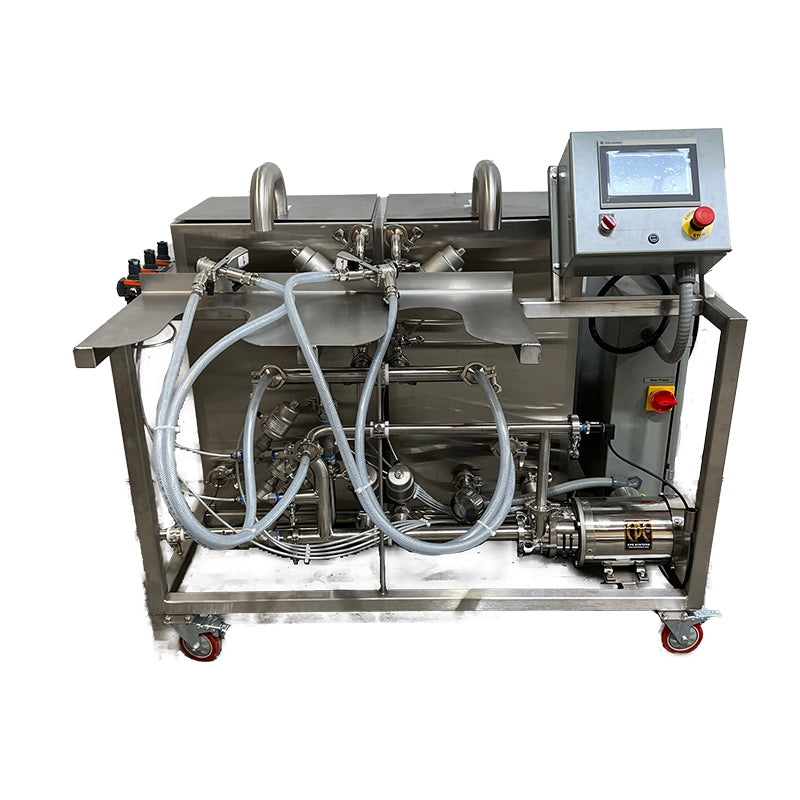 Premium Imperial Line Keg Washers
The premium Imperial line offers larger reservoirs, upgraded all stainless steel washdown CPE systems pump at 1hp, the ability to do CIP (Clean In Place) for larger cellar tanks, and it has upgraded FESTO brand angle seat valves precision engineered in Germany. The premium Imperial line also comes with a 2 year warranty on parts.
Economical Session Line Keg Washers
For our more budget minded brew houses we offer our more economical entry point keg washer known as the Session line. The Session keg washer is only available as a 2 head configuration and is constructed with the startup micro-brewery in mind.
Cascade Stainless Solutions
Best Keg Washers American Made
Best American Made Keg Washers for the Micro Brewing Community - Made in Oregon, USA and delivered worldwide.
2 Head Keg Washer Models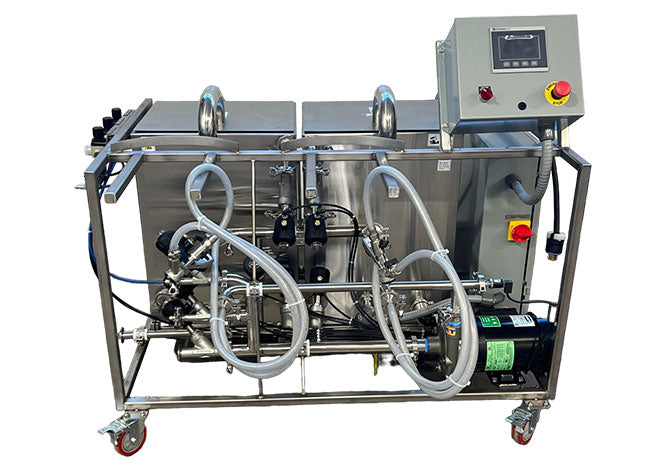 Session Line : 2 Head
Economical
Startup Brewery
2 Station Keg Washer
53" L x 45" W x 48" H
3/4 HP AMT Pump
30 Gallon Reservoir(s)
1 Year Warranty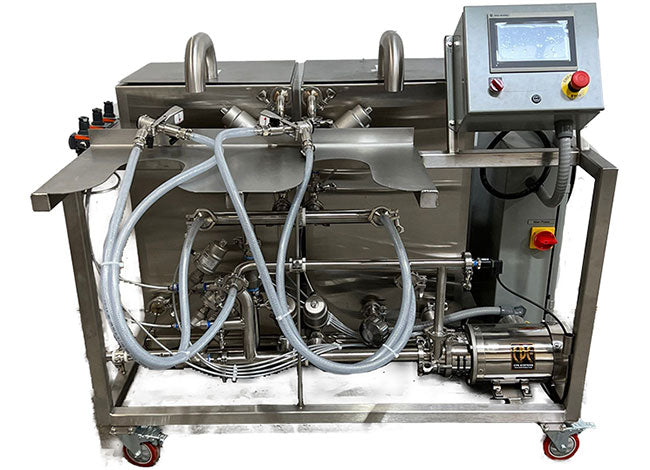 Imperial Line : 2 Head
Premium
New and Growing Brewery
2 Station Keg Washer
53" L x 45" W x 48" H
1 HP CPE Stainless Pump
40 Gallon Reservoir(s)
2 Year Parts Warranty*
Allen Bradley Equipment
Modern Electronic Controls
Easily control your semi-automatic keg cleaning process with our user-friendly dashboard. Fully adjustable parameters for washing 1/6 bbl, 1/4 bbl, and 1/2 bbl keg sizes. Modify the rinse and purge set points from the Auto-Cycle Settings menu screen. Along with being able to run fully automatic wash cycles, your Cascade Stainless Solutions washer can also be swapped over to manual mode so that the user can operate all stages of the wash cycle on their dashboard.

American sourced Allen-Bradley Electronic Interface and components
Multi Head / Multi Keg Models
Wash 2 Kegs at the Same Time.
For new startup breweries we now offer our slightly less advanced and more economical Session line 2 head keg washer to get you up and running.
Reach out to us today to talk about any customized keg cleaning features or custom product add-ons you might need on our premium Imperial line 2 head keg washer model.
We Love the Microbrewing Community
Built With the Brewer in Mind
All valves and connections on our American Made Keg Washers use brewery standard 1.5" tri-clamp fittings to ensure easy cleaning and sanitation. By doing this it allows for easy replacement of our interchangeable parts by the customer.
In the unlikely event that something was to fail on your Keg Washer, a replacement part is only an overnight shipment away. No waiting weeks to get a replacement part, while dirty kegs pile up in the brewery.
Engineered to Run
Heavy Duty Construction
We use the finest in materials, construction techniques, and welding.
The end result is a strong unit that can stand the test of time and rigorous usage. We build our frames and tanks from 304 Stainless Steel ready to withstand the typical wet conditions of a brewery. Our stainless-steel pumps are completely wash-down capable and the Imperial line keg washer pumps are powerful enough to CIP a 20 bbl fermentation vessel, cellar tank, or bright tank. Sturdy lockable casters allow the Cascade Stainless Solutions Keg Washer to be moved easily for storage or cleaning.

Our products are designed to run, without headaches, and with as little maintenance as possible.
Strict Quality Control
Thoroughly Tested
We put each finished product through a strenuous testing process.
Each unit also has to pass our carefully constructed quality control checklist to make sure each unit performs to the same level. Our initial prototype was tested under real working conditions at a local brewery here in Central Oregon. We mimic the same real-world environment when testing each new machine we produce.

We are continually testing and improving our products to bring you the finest product to work in real-world conditions.
Get Financing
Finance Your Keg Washer
We partner with a reputable financing company. Get your Cascade Stainless Solutions Keg Washer working for you!
Cascade Stainless Solutions: [2- Head] Keg Washer Specifications
Common Design Specifications
7-inch Allen-Bradley Touchscreen HMI
Allen-Bradley Micro 820 PLC and electrical components
Automatic Wash Cycle Sequence | "Set and Forget" Operation
Fully-Adjustable Keg Washing Cycle Set Points and Parameters
Digital Temperature and Pressure Read-Outs
Spear-cleaning functionality
Air and CO2 Purge Cycles
CO2 Keg Pressurization to User Determined Set-Point
Brewer-Friendly Interchangeable Tri-Clamp Valves and Fittings
304 Stainless Steel Frame
Heavy Duty Lockable Casters
5500W Stainless Steel Heating Element
Micro Matic Stainless Steel Keg Couplers
Air Requirements: 120 PSI @ 10 SCFM
Recommended Water Requirements: 3/4" Line at 50 PSI equaling ~10 GPM
Drain Requirement: No less than 1" ID drain hose
Power Requirements: Single or 3 Phase 240V 30 Amp
Dimensions
Dimensions 2-Head Keg Washer: 53" L x 45" W x 48" H
Capacity
Capacity 2-Head Keg Washer: 26 Kegs Per Hour with Factory Settings
2 Head Session Line Economical Specification Differences
3/4 HP AMT Pump
30-gallon Stainless Steel Sanitizer Reservoir - Recirculated or Drained
30-gallon Stainless Steel Hot Caustic Reservoir
Stainless Steel Pneumatic Valves
Built in the USA - 1 Year Warranty
2 Head Imperial Line Premium Specification Differences
1 HP CPE Systems Stainless Steel Wash-Down Pump - C+100MD - 7BBLs
40-gallon Stainless Steel Sanitizer Reservoir - Recirculated or Drained
40-gallon Stainless Steel Hot Caustic Reservoir
FESTO Stainless Steel Pneumatic Valves
Built in the USA - 2 Year Parts Warranty - 1 Year Pump Warranty
Save up to 6 different keg washing recipes
CIP Functionality: CIP Screen Allows Keg Washer to be Used as a CIP pump cart
PDF Specifications
Cascade Stainless Solutions
All Services and Products
Keg Washers, Yeast Brinks, Filling Manifolds, Chemicals, Parts, Custom Fabrication and more. Read a summary of all that we offer.
Email, Call, or Message
Contact Us Today
Email, call, or send us a message to get a quote on a keg washer of more information.